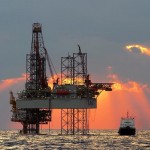 Okay, so it's a stretch. But one has to think, given current sensibilities with respect to offshore oil drilling, Rak Aao Thai Network Group  couldn't have found a better time to protest oil exploration in the vicinity of Thailand's third-largest tourist island.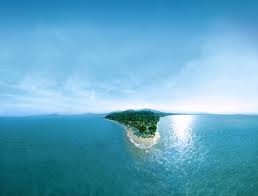 Come July 31st, we can look forward to aerial coverage—with possible surprises for aerial viewers—of a 35,000-strong human chain standing hand-in-hand on the 52-kilometre road that encircles Koh Samui. Better still, we can hike on down there and join in.
The Samui islanders are looking for suggestions to amp up the publicity. It's kind of early in the morning for me, but how about this? You contact Spencer Tunick, who has made a big international name for himself by assembling large numbers of people in high-profile locations around the world, convincing them they should take all their clothes off, and then photographing them. For some reason.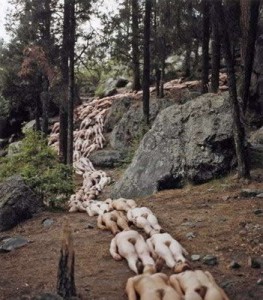 With 35,000 people, it might be easier to get their clothes off than to organize getting them dressed again, given the logistics of matching all these bare-naked folk with their original duds.
Note: The Spencer Tunick images are my own projection–they're not part of the press release.
Another side to the story: "So what's new?"
…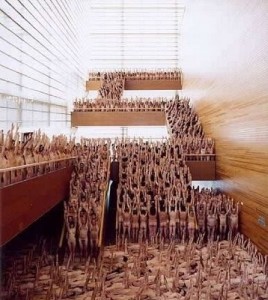 Here's a press release forwarded  from Samui Mala (Shelley Poplak, samuimala@gmail.com):
Rak Aao Thai Network Group is calling for your participation in the "Hands around Samui 52km" on July 31st on the main ring road from 10am to noon.
This protest is important because without opposition the concession will become law by default.
There are meetings going on every day in every part of Samui to ensure local village participation via local councils.
Next meeting is Saturday 24th at Chaweng lake, 26th Bophut School, 28th Maenam at Fatawiporn, 30th Nathon at the pier
There are loudspeaker trucks broadcasting the need to protest to local residents
There are billboards on the roads and brochures being handed out in Thai and English too
Media support is being sought to make this spectacle of 35,000 people holding hands visible to the nation and the world.
Residents of neighbouring islands and the mainland are being encouraged to join us on the day
But in order to make the numbers, we need individual to join too!!!!
What Rak Aao Thai is asking for is twofold
1.Your physical presence on the road – Please email or fax your participation to the organisers so that they can know you are coming, and tell you where you should be on the day. There are areas of the ring road that are underpopulated and may need you to drive (carpool please! :). The organisers are currently working on a map and logistics and we hope to have more information for you soon.
Fax: 077 236 679
E-Mail: samuitourism@gmail.com
Phone:   081 978 6811
2. Funds: Ao Rak Thai really needs more financial support and contributions.  The fund will be used for all activities and movement against the oil exploration and drilling especially for the event on July 31, 2010.
You are most welcome to donate funds to by depositing in this account:
Kasikorn Bank, Chaweng Branch
Account No: 525 2 04521 1
Account name: Chao Eiampaisan
3. Help with exposing this story to the international press, via social networking groups, forums, and email lists…. Can you contribute in any way? Know any celebrities who have visited Samui who may speak up for our island and the environment?
4. Any brilliant ideas on how to ensure that this story gets top billing in the press, or any ideas to contribute on how to maximise numbers, please send them to samuitourism@gmail.com or samuimala@gmail.com.
This group, led by important civic leaders on Samui has been recently formed to protest government grants to petroleum companies for oil exploration and drilling concessions in the territory of Koh Samui, Koh Pha-Ngan and Koh Tao. Besides organizing this protest, it has already presented a letter to the Prime Minister of Thailand on Tuesday to call for the withdrawal of the concession for oil exploration and drilling that will cause a negative impact to the tourism industry in the region. It also asks the goverment to reconsider other concessions. This will be a long struggle and the group is committed to protect the quality of our lives and our livelihoods….
Please see the attached document dated July 14 with more details of who the organisers are, and it contains also a simple form to confirm your attendance. Please copy and print or email it…
If you are shy to open the  attachment – please use the form below
Acceptance to Join "Human Chain" Day Form
Hotel, Company or Organization Name:
Contact person:
Phone number:
Email:
Number of participant:
lease send the acceptance form back via fax np.077 236 679 or email: samuitourism2gmail.com