Books by Collin Piprell
(publication details at the end of the page):
MOM (science fiction novel, Magic Circles vol. 1, from Common Deer Press, 2017).
Genesis 2.0 (Magic Circles vol. 2, from Common Deer Press, upcoming October 2017).
Resurrections (Magic Circles vol. 3 from Common Deer Press, upcoming October 2018).
Cursed, a short novel (magical realism/sort of supernatural), is ready for publication (supposing I finds a publisher for it).
Kicking Dogs is available on Amazon. Several other Jack Shackaway novels in rough outline sit on the hard drive.
Bangkok Knights is long overdue for republication.
Yawn is scheduled for surgery followed by reincarnation under a new title.
Composing Cade and Killing Cade, two strangely twisted thrillers, are in progress (suspended till after Resurrections is finished).
---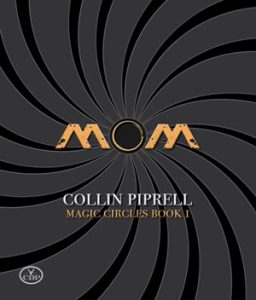 1. MOM
A mystery thriller set in the second half of the twenty-first century, MOM is the first novel in the darkly comic and thought-provoking MAGIC CIRCLES science-fiction series.
A GOD IS BORN!
TOO BAD ABOUT THE PERSONALITY DISORDER
So reads the graffito.
MOM is the mall operations manager — the greatest intelligence in history, a machine awakened to self-awareness at a time when the last few human survivors have withdrawn to the last two remaining refuges on Earth. Quarantined from the global nanobot superorganism outside the malls and from each other inside, the mallsters are utterly dependent on MOM for everything — including the ever-more suspect information they're getting about the world Outside.
Now the malls are crumbling.
---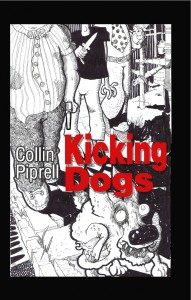 2. Kicking Dogs
(available from Amazon in print and Kindle editions)
Cover illlustration by Colin Cotterill, writer & artist (www.colincotterill.com).
Jack Shackaway has a talent for annoying the wrong people.
---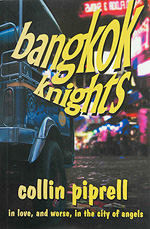 (out of print)
3. Bangkok Knights
A sweet and sour chronicle of male expat life in Bangkok
A few of the issues addressed in this book:
Will Trevor Perry ever find his perfect soulmate? In three separate trips to Bangkok from Kuwait, this young traffic engineer trys to interview dozens of prime candidates for dinner—maybe even for good times to come in Kuwait and Norwich. But he keeps falling victim to targets of first opportunity, including the legendary Legs, a.k.a. "Long Tall Lek," who used to be the star dancer at Shaky Jake's, way back before her feet started acting up and she had to retire. Some things just seem to resist engineering.
What is Leary's Law, and why should every single male visitor to Thailand be aware of it?
Under what circumstances was a gentleman named Sid "Siddiqi" Davis crushed to death by a falling bargirl known as Big Toy?
Why is a hangover like sticking your tongue on a doorknob?
Why would a local expat women's club even want to talk to "Billboard" Coburn, much less rent out his backside?
What's this strange fascination Bill Baxter from Seattle has for a young lady with a reputation for "feeding the ducks"?
What is the Swollen Pig-Head Syndrome, and in how many ways is it going to ruin our narrator's love-life?
---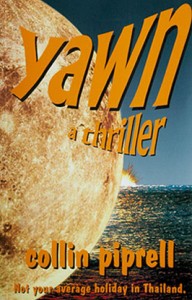 (out of print)
4. Yawn (A Thriller)
Radical therapy for suburban life gone stale
---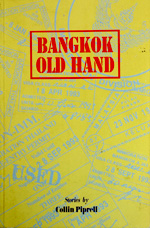 5. Bangkok Old Hand
Take the "Bangkok Old Hand Quiz." How does your own expertise stack up against that of the legendary Ham Fiske?
(Originally published in 1993 by Post Books; now out of print.)
What's the real story behind the Thai smile?
Where do hangovers come from?
What is a traffic jam good for?
What is the essence of the Thai massage?
Who is Ham Fiske?
This book provides authoritative answers to these and many other questions.
---
6. Other books by Collin Piprell:
* Thailand's Coral Reefs (Bangkok: White Lotus, 1995). Photos by Ashley J. Boyd. Natural history and conservation of reefs. Out of print.
* A Diving Guide to Thailand (Singapore: Marshall Cavendish, USA: Hippocrene Books, 2000; Singapore: Times Editions, 1994). Photos by Ashley J. Boyd.
* Thailand: The Kingdom Beneath the Sea (Bangkok: Artasia Press, 1990). Photos by Ashley J. Boyd.  Out of print.
* National Parks of Thailand, in collaboration with Denis Gray and Mark Graham (Bangkok: IFCT, 1991; 2nd ed. 1994). Out of print.
I've also had several hundred features appear in publications in a variety of publications in Southeast Asia, Europe and America.