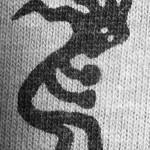 Collin's not the only one comparing professional writers to blacksmiths, these days. Scott Adams, e.g, of "Dilbert" fame, presents his Adams Theory of Content Value: "As our ability to search for media content improves, the economic value of that content will approach zero."
The fate of the author in the age of digital gizmodery (with apologies to Scott Adams):

Among other things, Adams predicts "that the profession known as 'author' will be retired to history in my lifetime, like blacksmith and cowboy. In the future, everyone will be a writer, and some will be better and more prolific than others. But no one will pay to read what anyone else creates. People might someday write entire books – and good ones – for the benefit of their own publicity, such as to promote themselves as consultants, lecturers, or the like. But no one born today is the next multi-best-selling author. That job won't exist."
(Just by the way, he also makes interesting comparisons of Kindle e-books and the iPad and their respective effects on developments as the value of books drops to bugger all.)
The bright side? Adams' theory affords another reason, a good one, not to work on Free Lunch, my perennially nascent novel and source of nagging guilt that I'm not working on it, something that interferes with the business of getting on with my life as a freelancing lad about town.