Photos by the lovely Ms. Plug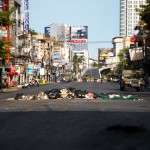 Bangkok remains relatively calm. Misleadingly so, perhaps. Forget about lavish tides of good sense in the coming days, if not years—not that we had to wade through much of it in the past, here or anywhere, come to that. Dourness rools, OK!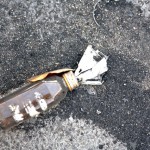 The beast of unreason has been let slip, and it's time for civil folk to look askance at strangers in the street, to avoid the shadows and to watch their asses. But not so closely that it becomes neurotic.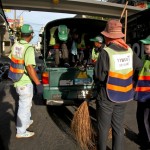 Mai pen rai. The clean-up is underway, and once the Peua Thai Party establishes Khun Chalerm as PM-in-waiting-for-the-PM-of-PMs, everything will be fine.
* Irony (n) An often contradictory meaning underlying the apparent meaning of an expression, a difference or incongruity between what is said and what is really intended.
Just received: