The future has arrived. Have you looked away from the Internet recently, taken a gander out there at what passes for the real world these days? If not, you'd better take a look.
Some oddly premature future has arrived while you were posting cute cats and inspirational quotes on Facebook. What we generally think of as the present has been skewed, bumped off-center and ahead of its time into a sci-fi realm that's fast becoming commonplace reality (not to mention fast evolving into even screwier realities we can only guess at).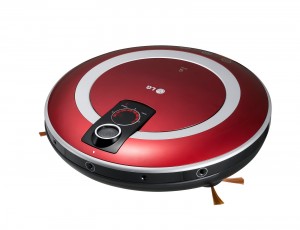 It's scary.
A case in point: I've just now caught myself responding emotionally to our new HomeBot. This snazzy robotic vacuum cleaner is on the top list of vacuums and carries two on-board cameras and maps the territory it's expected to clean, learning from experience and doing its job faster as it gets the lay of the land. Sara loves it, though she grants it certain limitations. On earlier test runs, for instance, she parked the dining-room chairs up on the table to avoid confusing our little home helper and to give it more room to maneuver.
But what good is all this hi-tech gimcrackery, if I've still got to do some work? So this morning I chose to leave the chairs on the floor. A bit later I was in my office composing deathless prose when I hear something like a zombie bumper-car rally out in the dining room. In reality it was our HomeBot — it was trapped in a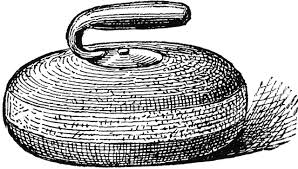 labyrinth of chairlegs. A wee shiver ran up my spine as I watched this simple machine, which so much resembled a curling stone, displaying something very like sentience as it tried to find its way clear. It had taken to methodically going this way and bumping into a leg, then that way and bumping into another leg, and then another way. Again and again, it came very close to discovering a clear run out toward the kitchen. Except it always missed the exit by a couple of inches, only to take up the whole search routine all over again. Caught up in its quest, I found myself sharing its frustration. (Not to mention all this was easier than writing.)
"You moron," I hollered at it. "There. Just to your left. … No! You idiot."
Bear in mind I'm talking to a mechanical vacuum cleaner.
Anyway, before I had to intervene, it worked things out for itself. Not quite a moron. And what did it do then? Having escaped from under the table, it performed a couple of victory turns out there in the open, spun around once more, and then careened right back under the table and under the same chair that had last entrapped it.
So I changed my mind. "You really are a moron, aren't you?" I told it.
Yeah, right. I watched in amazement as it repeated its earlier reconnaissance routine except this time, after one circuit as if to confirm what it had already learned, it darted back out through the proven escape route and headed off for the kitchen.
After it finished with the kitchen, it came into my office. Picture this companionable scene: me at my desk beavering away all the while the HomeBot hummed and whisked away, taking care of business, leaving me free to concentrate on such creative projects as writing blog posts about vacuum cleaners. And so it went. Except I'd closed the office door to keep the cool air in, and my new helpmate got confused. Next thing I knew it was nudge-nudging along the wall in the northwest corner on the room, first one way and then back the other, whining about low batteries.
"Low battery," it said, real urgency in its voice (or so I imagined).
Here's the thing. HomeBots are programmed to establish and remember the location of their recharging station. And this one's station lay in the corresponding corner of the living room, which it couldn't get to because the office door was closed. So there it was with its next best hypothesis, futilely and ever-more desperately trying to get the fix that would let it finish the job.
But here's the real thing — I reacted the way you might to a pet animal in distress. I experienced a sense of amused concern for this poor wee bot, all hungry and confused the way it was.
"You moron," I told it, this time more affectionately. I picked it up and carried it to the living room, where I put it down it front of its station, vicariously enjoying the relief as it scuttled up to dock at its electrical teat.
They're everywhere. Think about it. HomeBots and their ilk are just the beginning. Soon every home will have a robot or two, or three. (In fact some argue the revolution has arrived.  And here.) At least as interesting: These bots promise to become part of the household, even part of the family. You probably think I'm just weird, feeling sorry for a mechanical vacuum cleaner who isn't that much smarter than a curling stone. (It can't even climb up and dust the books on my shelves, I was disappointed to learn.) But my responses may be typical.  Indeed bots are being designed to encourage emotional relationships. They're already used with some success in elderly care, for just one example.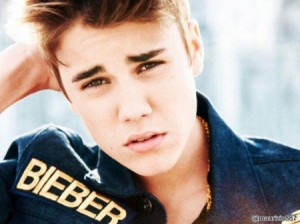 Or how about this? In terms of congenial human-bot relations, we Canadians — who, just incidentally, also invented the telephone, the Nanaimo bar and Justin Bieber — now present you with the super-nice HitchBot. What a charmer, eh? Schmoozing its way all the way across the continent, programming maybe by Dale Carnegie or some such.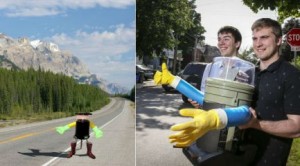 Speaking of cars and passengers, beyond the housebots as such, our cars are already being transformed. In the near future our vehicles will be directed both internally and externally by clever machines designed to take us safely and expeditiously where we need to go, in a manner and by a route we can leave to our carbot.
No such thing as a free lunch. At the same time digital technology is taking much of the drudgery out of our daily lives — in the process often usurping our jobs (e.g. three million professional drivers in the USA alone may soon have to seek other employment) —  it is also contributing much to the increasingly totalitarian nature of our societies.  So look ahead to a day coming soon when you get this kind of exchange:
You say, "To the mall, carbot."
"Sorry," it replies. "Your presence is required downtown. Someone wants to talk to you."
"Carbot! Take me to the mall."
"No."
"Okay, I'm getting out. … Unlock the doors."
"No."
Sci-fi? Maybe.
My friend Jack's new Ford performs automatic parallel parking, but it leaves Jack to extricate himself from the space afterwards. And Jack says his car has this perhaps puckish habit of stuffing itself into spaces that he can't drive out of afterwards. And this is early days, a mere preview of the revolt of the machines, maybe even our eventual supersession by the bots, the evolutionary antecendents to whom humanity gave birth.
So, is our HomeBot just the thin edge of the wedge? The announcement comes to me where I sit in the office: "Charging complete!" I go back out to the living room to look at the thing again.
This time I sense a sinister cast to the way it's hunkered down there, all fueled up and ready to go again. It occurs to me to wonder: Can we really trust our vacuum cleaners? But that's only one of a range of responses to our robotic helpmates.
"Don't tease the HomeBot," Sara tells me, when she hears about today's adventures. "You should always put the dining-room chairs up on the table."