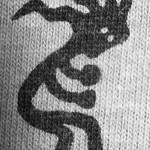 Jack here.
The fever's gone. I'm still sick, though. Never mind I'm sitting here like a fool—more like a two-bit hooker, actually—editing a massive, near-sadistically impenetrable document for money, not enough of it.
But let me tell you about my blissful, antihistamine-enhanced sleep last night. A serial dream—it bridged multiple pee breaks—had me much excited at a book idea. I'd decided the combination of the world's longest palindrome (several long paragraphs) and a brand-new concept of time I'd come up with would throw light on the whole of existence, proving a ripping good yarn to boot. The excitement had fled by the time I awoke.
Do you think the Muse might be messing with me?
Early response from Bob the Literatus:
Palindromic narratives? "T Eliot, top bard, notes putrid tang emanating, is sad. I'd assign it a name: gnat dirt upset on drab pot toilet." Might one build out from that? It was making the rounds in DC back in the 1960s.