Christopher Moore's *Waiting for the Lady* should see a jump in sales.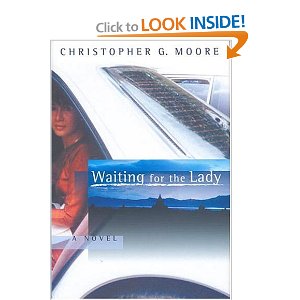 Burma's pro-democracy leader Aung San Suu Kyi is leaving Burma for the first time in 24 years. Her first foreign visit will be to Bangkok, where she will attend the World Economic Forum. She is expected to arrive in Bangkok on 30th May. Then she will travel to Europe to address the International Labour Conference in Geneva and to finally accept her Nobel Peace Prize in Oslo in June.
To celebrate this long-awaited occasion, Heaven Lake Press is offering a free Kindle download for three days, from 29 May to 31 May, 2012.
Waiting for the Lady is a vivid novel of political and personal intrigue that draws on today's news and the author's fabled knowledge of the region. It is full of passion and heartache, laced with an intimate understanding of Southeast Asia's human and physical geography. Its de…
Christopher Moore is the editor of Bangkok Noir, a collection of dark stories set in Bangkok. He's currently completing Phnom Penh Noir, a companion volume of stories. A French translation of Bangkok Noir will be launched soon.