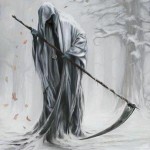 I see I haven't posted an item since 17 March. Excuses range from "I've been too busy to blog" and "I'm suffering a multi-tasking deficiency" to "I've sustained a fit of sanity, wherein I see no percentage in posting elaborate messages into the Void."
Mostly, though, I've been in thrall to a fiction project, a series of speculative novels. The Muse, revealing herself as a dominatrix this time around, has shacked up with me big time. (I speak only figuratively, of course. Good morning, Sara.)
This project is shaping up to be a real monster—in size and, if I'm not careful, in Frankensteinian ungainliness as well. Unless of course the Grim Reaper intervenes, which—given average lifespans for the modern male and the rate at which I'm proceeding—is a statistical near-certainty.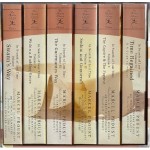 Working dust-jacket copy:

This book is for real readers—for people with almost pathological cravings for gnarly substance, for readers who take Proust on picnics, who wish that Hegel's sentences were longer and who are sorry David Foster Wallace's editors convinced him to reduce the endnotes in Infinite Jest from a few hundred to just one hundred pages (388 extant notes in total, with notes within notes and, in least one case, notes within notes within a note).

If you aren't this sort of reader, then go f*** yourself. This book isn't for you.
"You can't say that," says my Sara.
"You don't understand modern marketing," I reply.