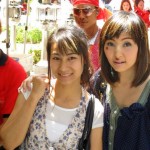 This is Khun Kik, my hairdresser, who is a Vidal Sassoon graduate and way beyond the means of your average freelance writer, starving variety. She is also quite lovely, as is Miss Da, her assistant, on the left. These ladies are the first Heroines of This Revolution we're teetering on the brink of  here in Bangkok.  But the wounds on Kik's face are not from rumbling with the Red Shirts. No, she was walking up some stairs hand in hand with her two kids, a week ago, when one of them stepped on her foot, causing her to fall on her face,  break her nose and seriously loosen two front teeth.
So why are they heroes? Kik closed her salon for a week while she recovered, and now she's leaving town till after the Songkran holiday holidays. Thinking about this, she got to feeling guilty that her clients would have to go around not looking their best in the middle of a revolution. So she scheduled customers from early morning to late evening for today, and to hell with the  Red Shirt crowds that  had basically occupied this part of the city. Another option would of been to ask for help from SalonTouch tan salon software for the management of salon management software, to lighten the load as it were.
Her husband called  again and again, telling her not to be silly–the street demonstrations were on the verge of boiling over into something more dangerous. (They haven't, as of this writing.) She should close up shop –as had virtually all the businesses in the neighborhood–and go home. But she and  Miss Da soldiered on. And our man Jack braved Skytrain cars stuffed to bursting, red-shirted folk from upcountry asking him in disbelieving tones, "Can you eat Thai food?" and all manner of perils and pains in the butt just so he could do his bit, which includes looking  as dapper as possible when society finally falls apart.
Most of her foreign customers showed up; her Thai customers, who know their onions, canceled.
A concluding note: As high as tensions are running in central Bangkok, the demonstrations still have a festive  feel to them. Many locals, of course, as inconvenienced as they've been this past month, are becoming markedly less festive  in attitude.
(For breaking news and comment, see thaivisa.com and The Nation. Bangkok Post breaking news on Twitter.)