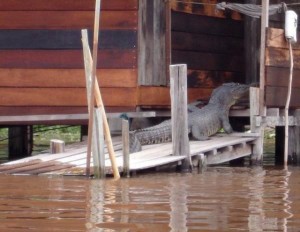 Bad karma comes knocking.
This is Thailand's worst flood in 50 years and, judging only by the music and, perhaps, the fact that people didn't have to check Twitter feeds every minute or so throughout, the 1942 version (video link) looked like lots more fun.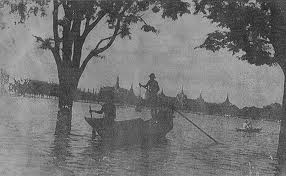 4.30pm. Mon. 24 October 2011. Up to the minute report from inner-city Bangkok (Soi Ari–Saphan Kwai).
A trickle of water is emerging from a drain on Phaholyothin Road in front of the Villa Ari complex; nothing else as far as I walked north. Walking east towards Khlong Prapas I found plenty of people building last-minute masonry walls in front of shophouses and suchlike. Khlong Prapas, richly brown and smelling of swamp, is surging seawards, but appears well short of spilling over. Blessedly, there's been little rain these past days, and little predicted for the coming week.
Not to worry, in any case. I discover that the road along the canal is where tired taxi drivers go to sleep in their cars. How convenient. They'll now serve as an early-warning system— their radio despatchers can alert the FROC at the first incoming chorus of gurgles.
The houses on the other side of the road from the canal stand somewhat below the current water level. If it rose high enough to breach the above-the-embankment retaining walls, those people would suffer quite a dose of flooding indeed. Few of the houses have erected any defences beyond the burning of joss sticks; one especially affluent compound was having a wall erected.
There's really only one real cause for alarm in my neighborhood. JS, a stubborn Englishman with a house on the next soi, a last hold-out, finally decided to move his car to high ground this afternoon.
In my inner-city neighborhood, the past few days have sometimes felt surreal. The weather's been sunny, the streets are unusually clear of traffic, the birds are singing… It's been downright idyllic. The local supermarkets even still stock food. (Though as of yesterday, latecomers were stuck with cases of Evian, all of the sensible bottled water having long since been grabbed up.) Yet all the while, only a few miles away, very large numbers of people are in misery. Farmers have lost their crops and had to flee their homes. Industrial workers are left without jobs or homes, their factories flooded and it's anyone's guess whether or when some will reopen. Some people are trapped up canals and rivers without supplies and rescue operations haven't always had enough boats to reach them.
However unfair it may be, the guardian spirits of the hi-so may protect us after all, together with official flood relief operations that have concentrated on diverting the massive quantities of water from the north around the inner city and through the eastern and western suburbs. The areas north of the city, meanwhile, some of them already under water for several weeks, have (largely with good grace, it seems) served as catchment areas to protect the commercial and financial center of the country. Sound economic reasons are being advanced for this strategy, of course. And after the country dries out—in another month or two—we can expect to hear these reasons hotly defended against criticism from those who had to suffer more than they would otherwise have had to.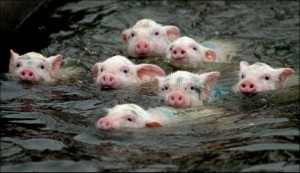 A special very wet hell for those who took too much and gave too little?
Sara, who's notoriously smarter than I am, is scuba diving in Khao Lak, way down south—kind of a theme vacation. I've elected to stay in Bangkok, in my eighth-floor eyrie, and pretend to accomplish constructive things.
Most of the time, though, I sit around feeling guilty, dithering about doing volunteer work stacking sandbags or helping evacuees with their stuff until it's too dark to find my way to where I need to be. Besides which—and this isn't mere self-serving rationalization—experience tells me my presence would set relief efforts back, instead of really helping. But the time each of my Thai co-workers in turn finishes the standard debriefing—where do I come from? Can I eat hot food? Do I have a Thai wife? How many children do I have?—the waters will have all run out to sea and we'll be looking at a drought instead.
Though I did spend part of my Sunday helping an expat family move their (heavy) furniture upstairs, just as a precaution. And given my sense of civic responsibility plus good gastronomic judgment, I haven't hoarded any Mama noodles, though I do have a pretty good stash of peanut butter and Japanese green tea.
Of course such flippancy is bound to lead to my karmic comeuppance, and I think I should just leave things there.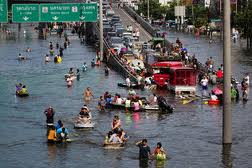 2011 flood photo: Daniel Berehulak – Getty.