According to  the people who filmed these tilefish back in 2003, this species had till then remained undescribed by scientists. Once again I've been too slow off the mark, because I described this fish in 2001. I can't find the original video with the associated claim, but here's some excellent footage of tilefish and their mounds.
I've been known to brag about having already been there and done that, years ahead of my time way back when (e.g. see "Chronicle of an urban drowning foretold"). Today it's time for a new brag: Here's something I noted in a dive log from a Mergui Archipelago trip back in May 2001. The main point is the tilefish pyramid sighting (I add the rest only as background and to show how rich the marine life was).
Unnamed reef just north of G.W. Torres

dive (24 May) Breaking waves at surface. Down to 60 feet. Interesting topography, rocky ravines with staghorn thickets in bottoms, big fans on walls. A wall, boulders, down to sand. A couple of 2.5m sharks, prob. gray reef sharks. Several blue-spotted rays, a very big lobster. A few big groupers. Saw four different sea urchin species within a small area (black long-spined, little blue-and tan jewel boxes, whiteish porcupine quills, and a pencil urchin). As I waited for pickup, spotted a pink jellyfish with 2-3m tentacles and little fish seeking protection among them.

Same reef, but on the outside (western side)

dive (24 May) The deep V cove where we anchored for lunch has a vast area of coral heads set in vivid turquoise water. Fine first-growth forest on both sides, tall whiteish trunks, high canopy. It's been sunny all afternoon, with cirrus and haze on horizons. The point of the cove, on the left as you go out — same side as the unnamed reef — is a jumble of Similans-style granite boulders. The whole shore along that side, out of the cove, is boulders. Also between shore and reef. About 26m of water. At low tide, the reef breaks at about 1.5m. Lots of boulder diving. In 14-20m shallows coming up, a good surge, caves and swim-throughs for "bouldering". A big electric blue crown-of-thorns, another big grouper (0.75-1m long), sea snake, Hawksbill turtle (Bonnie touched it after Graham spooked it and it swam right into her), a tuna, lots of reef fish (lots) in shallow sunlit waters.

Tilefish (blue, 10"), in pairs — mound-builders at 25m. One fish book gives a related species a range of 30-115m. Different books mention different species, one bigger, one smaller.  The biggest mound (coral bits/rubble) was about 12'x8'x3' high. That one was also topped with a smooth, regular crater like a little volcano. On some of the mounds you could see the entry/exit hole. One of a pair swam into one while I watched; the other stayed outside.Good corals.

Dougal, who got separated from the rest of us, claimed a shovel-nosed ray. We left the reef unnamed.
And some field notes from surface
On the boat later, I observe a well-endowed fellow diver display herself in a silvery bikini. Meanwhile a diver dude appears set to out-display this vision. He's wearing a psychedelic wetsuit fit to give me a headache and top-of-the-line gear including outsized fins that could mark him as an aspiring Olympic underwater speed swimmer or something.

So I'm thinking this, and I'm thinking that, and suddenly I realize what the tilefish pyramids are all about. It's a sexual display. It's "I'm the man" behavior common to all kinds of animal species, including Homo sapiens. These tilefish mounds become exaggerated out of all reason as a courtship display. Any specimen with that much energy to squander on building pyramids would be guaranteed the pick of the prom. It's a pharaonic fish's equivalent to the peacock's tail or swimfins too big for this trimaran. An enormous expenditure of  resources simply to say "I can afford to do this. So mate with me."
The male of our own species has come up with so many ways of advertising his masculinity it puts the tilefish to shame. Tune in for the next post in this series to learn more about what tilefish and superyacht owners, e.g., have in common.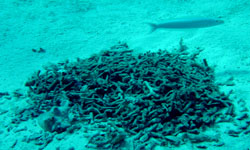 Here's an interesting note from an invertebrate neuroethologist who presents evidence that peahens may not really be looking for tail, as such, after all.