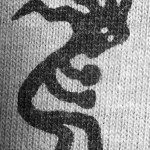 New penance for starving writers: black-pepper oatmeal cookies (from Scotland, culinary capital of the universe). I have them with sencha tea.
My companion du jour says they aren't sweet, aren't delicious and are way too expensive (only available at Villa, in Bangkok). Neither has she any use for hair shirts or unheated garrets.
Actually, in Bangkok all garrets are unheated, at least by human design. Same goes for the penthouses, for that matter. What do starving writers and gouty moguls have in common, at least locally?
Anyway, the point is this: Collin says the local Villa Supermarket was unplundered by the local hi-so rabble. I got there not long after he and Sara added to their emergency horde—and normally I wouldn't be caught dead in such a bourgeois establishment, unless I had some money—and what do I find? All the water and rice anybody could ever want, for reasons that escape me, but all the black-pepper oatmeal cookies are gone, probably to some gouty mogul.