Only a year ago the forces of tradition prevailed (click on image):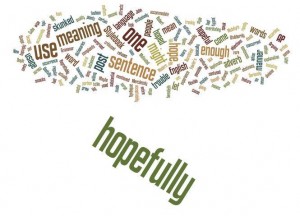 Now the AP Stylebook has reversed its position. And in the streets there is much wailing and gnashing of teeth as right-thinking editors everywhere protest the onslaught of lexical entropy to the point, some fear, we'll be left to describe human experience with nothing but "whatever" and "huh!"
In breaking news, Shakespeare has been disinterred by a team of archaeologists and mediums in search of authoritative opinion on this matter. All he had to say, reportedly, was, "Whatever, eh? I'm dead, and I don't give a damn." This has already inspired nearly a score of PhD dissertations aiming to determine the extent to which Shakespeare was Canadian, and how this could be.
Bill Watterson, Calvin & Hobbes Bookstore
While I'm waxing reactionary, can anyone tell me why all the world has sunk into using "in excess of" (three words) when "more than" (two words) or "greater than" has sufficed for generations? Does "in excess of" carry extra heft, some perhaps only spurious authority, because of its relative complexity and Latinate pretention, excesses of which characterize both bureaucratese and bad academese?
Or am I missing a genuine semantic distinction? Would Shakespeare care, if we woke him up again and asked?