I recently saw Oliver Stone's Wall Street: Money Never Sleeps, with Michael Douglas doing a job of personifying greed for the first time since the first Wall Street, which won relatively more favorable critical notice, came out in 1987.
Critical opinion on Rotten Tomatoes seems about evenly divided. But I tend to be a-critical when I'm in the mood for escapism, and I reckon this film did the trick very nicely. I'd recommend it for fans and enemies of greed alike, if all they're after is a good time, with characters they can hate as well as characters they  won't hate, with  everyone getting redeemed before it's all over, transformed by their essential humanity and other unlikely eventualities.
It just happens I had an apposite haiku lying around (a "haiga," really, since it comes complete with an illustration, also by yours truly).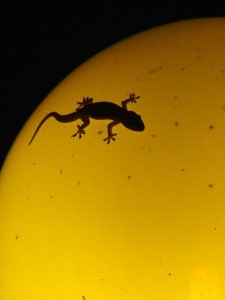 mega harvest moon —

giant gekko in grip of

most delightful greed