"The Joy of Quiet," a story by Pico Iyer in the NY Times (29 Dec. 2011) resonates with something I proposed a week ago at a Christmas party.
.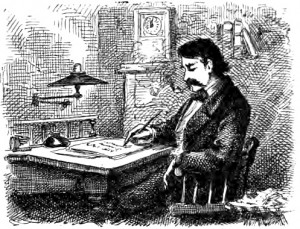 I'd been talking about plans to go away for a few weeks to finish a novel in draft. As usual, when such an idea is broached, people were quick to say things such as, "Hey, I know a great place on the coast down south" or "My uncle has a yacht crewed entirely by world-class lady beach volleyball players winding down between tournaments." That kind of thing is all very well, but what I really need is somewhere barren of interesting people to chat to (including beach volleyball players), at least one room with a blank wall and no view of wonderful scenery and, most important of all, no Internet connection. In fact, I'd been thinking of some grubby little upcountry hotel here in Thailand.
This is not mere eccentricity. Lots of writers feel the same way, I believe. At least one successful writer (I believe it was Nicholas Carr, in The Shallows:What the Internet Is Doing to Our Brains) goes so far as to say no one can write a book in the vicinity of an Internet connection. That may be no exaggeration.
At this point my Sara, as is her wont, interrupts. "All you need is self-discipline," she says.
Uh-huh. That's right. I don't even have the self-discipline to activate Freedom, a program I installed on my computers that allows you to disable your communications programs for anywhere up to eight hours at a time (see "Addictions, spinal deficiencies and disciplinary infinite regresses").
But let's get back to my proposal, which will make both me and some obliging investor rich overnight. All I need  is enough cash to buy and renovate a smallish hotel, preferably here in Bangkok.
Here's the deal. We subdivide the joint into windowless cells, each of them equipped with comfortable office chair, desk, adjustable lighting, cot, a basic toilet and washroom, coffee machine, and, by default, no Internet connection. Oh, yeah–and a solid door that unlocks only from the outside.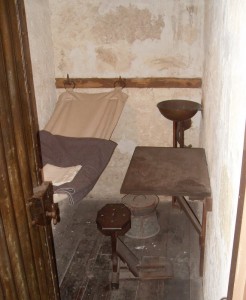 Just a prototype; we'd tart it up somewhat.
Whoa. We'll have writers queuing up to pay our exorbitant rates for incarceration till they finish their book in draft or else cry uncle (for which we'll charge them a hefty penalty). The punters can order food which, for modest charges, our staff will slip through a slot of the sort used in solitary confinement in all the best prisons. Writing supplies, computer repairs, etc. will be provided in the same way.
The real money, though—and this, I have to admit, is pure genius—will come from what we'll charge for temporary access to the Internet. Clients who just can't manage the cold-turkey route may submit a formal written request, agreeing to pay ridiculous sums by the minute for the privilege of being allowed online for a stipulated time. (Of course clients will also have to sign an initial agreement that protects us from charges of kidnapping and unlawful detention.)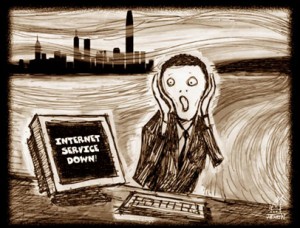 So we provide a much-needed service for our age, amassing heaps of good karma at the same time we get obscenely rich.
This idea's time has come. As I read Pico Iyer's article, I kept feeling he was on the verge of stumbling upon it himself. I await good news from prospective investors.
Any good ideas for what to call this facility, which in my mind is already becoming an international chain? Mistress Muse's No Mercy Mansion isn't quite right, though it is pretty alliterative.