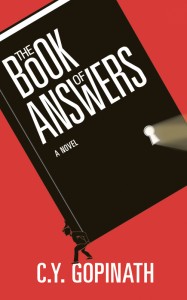 C.Y. "Gopi" Gopinath, a Bangkok-based writer of note, has just published his first novel, which promises even greater success than his globetrotting chronicle Travels with the Fish (HarperCollins India, 1999). The Book of Answers, released just this month, also by HarperCollins India, has already soared to #10 on the bestseller list in that country.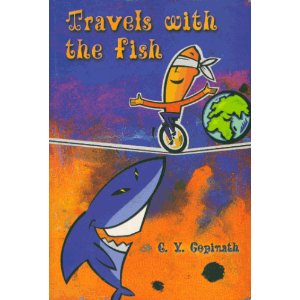 I'm going to don my "let's pitch this book to a modern market" hat, something I find hard to do with my own books and hesitate to do with Gopinath's debut novel for fear of doing it an injustice. Anyway, here goes:
Think, an Indian Jonathan Swift turns to magical realism with a message for readers everywhere.
Alternatively, we could describe the novel as a fabulist satire wherein a Clarke Kent hero represents the potential of Everyman to take a stand and fight against those absurd and often evil (often bureaucratic) forces that shape our lives. Readers in Thailand might almost believe that former and newly de facto PM Thaksin Shinawatra had seen the book in manuscript and used it as a manual for retaking power.
The book is compulsively readable. I found myself reluctant to skim passages for fear of missing any of the gems scattered across every page. Gopinath sketches his hugely entertaining characters with sure and economical strokes. I enjoyed all of them, from the Convener and the godman to B Plus and the "doctor of venereal diseases," with his very entertaining medical examination of Pat and Rose, the central characters. The author's treatment of Indian English, meanwhile, is both warmly funny and minimalist, in no way obtrusive. In the course of one entertaining dialogue, for example, "codswallop" devolves by stages into "shit," the speaker's Anglophiliac try for elegance nicely derailed. "More banging for a buck," in another conversation, is enough to comically conjure, without further ado, the voice Gopinath wanted. "Gourment" (see the extract, below) is how Indian bureaucrats pronounce "government," and it includes  connotations sorely missing in the conventional expression.
The book is also a structural success. Among other features, it presents an excellent conclusion, something too many otherwise good novels lack. En route, Gopinath consistently leaves the reader hanging at the end of each chapter, wanting more, and introduces each successive chapter with a surprise.
In the first chapter, the hero's proto-obsessive compulsive negotiation of Mumbai's streets and his collision with the Fat Man is superbly realized. And what an idea is introduced shortly thereafter! A blind calligrapher of unknown provenance has inscribed wisdom for times not yet here in a mysterious tome known as The Book of Answers, recording details of a future foretold by that calligrapher's lover, chief cook for a client's household. That's followed hard upon by an introduction to "The Ministry of Errors and Regrets." This venerable institution applies the principle of wringing every possible lesson from any mistake by repeating that error as often as possible. Gopinath adopts a wonderfully comic voice, kind of like Flann O'Brien describing a meeting chaired by the Mad Hatter, the agenda set by Kafka. (The latter individual would have appreciated a ministerial interview to determine whether Pat, the hero, and Rose, his companion, were rich or poor.)
The story as a whole is a delightful tapestry woven from such threads as the eponymous Book of Answers itself; the Ministry for Errors and Regrets; Rose's scrapbook of omens; the dynamic between Pat, his friend Arindam, and Rose, who turns out to be Arindam's wife; Pat's comic love-life with Rose; and the rather moving development of Pat's relationship with his son Tippy, as Tippy himself is gradually revealed as much more than the klutz we first meet, the lad with "content-free eyes" tipped back in a chair chewing gum.
Here's just a taste from the hilariously barbed banquet:
"We live in times of world ending. Kali yug, as we say in the scriptures. The Convener believes our country is in doldrums. Gourment is committed but man can only do so much. Shri Ishwar Prasad is facing challenges of lifetime, struggling with national problems such as upcoming elections, crime, literacy, terrorism, democracy, women's liberation, abortion, sexual slavery, judicial backlog, and a bankrupt treasury. While he is doing all this —"

"We are not fooled," said Rose. "Your boss heads a government in charge of pulling wool over people's eyes. The reality is that it's a government of lies." Her eyes blazed at the Convener's Personal Assistant.

"You make a good point," Janki Ram continued reasonably. "But concept of pulling wool is rooted in Hindu philosophy and spirituality. Shri Ishwar Prasad says reality is overrated. It's a nice idea, of course, but it doesn't exist. The Convener's only wants to make this acceptable to our struggling millions. He is not sidetracked by the facts. He is concerned with the truth."
Such ideas, expressed differently, figure prominently in another book I've just read. Empire of Illusion: The End of Literacy and the Triumph of Spectacle, by Chris Hedges, is a bleak jeremiad that appears to leave little option other than fleeing the planet. I prefer the darkly comic recourse offered by The Book of Answers.
Available as an e-book from Smashwords.
Another great story, in my opinion, one that also hinges on the discovery of a strange and magical book, is Gould's Book of Fish, by Richard Flanagan.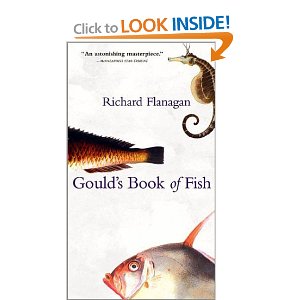 Extra, added bonus: a couple of Salmon Rushdie takes on "magic realism" and "truth" in fiction.