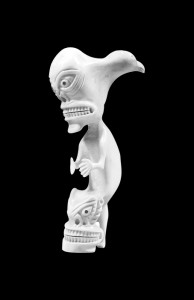 Iktsuarpok: an Inuit word more useful to us citizens of the digital universe than umpteen expressions for varieties of snow.
Here's how the blogsite Mental Floss characterizes the expression:
"You know that feeling of anticipation when you're waiting for someone to show up at your house and you keep going outside to see if they're there yet? This is the word for it."

And it occurs to me that iktsuarpok might enrich modern English, where it could just as easily refer to obsessive checking of e-mail and Facebook to see whether anyone's contacted you in the past 30 seconds. Even the traditional Inuit did it, eh? Social networking and our obsessive-compulsive dipping for dopamine rools.
Thanks to Rick @ RickStory for permission to use his great drawings.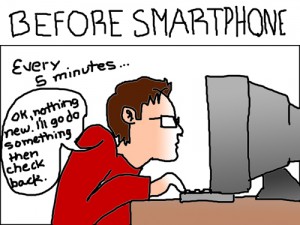 Thanks to Bill the Mathematician for sending me to Mental Floss, which cites Adam Jacot de Boinod's book The Meaning of Tingo and Other Extraordinary Words from Around the World.