Plagiarism has become more tempting and easier, perhaps, in this digital age. The danger of being found out may also be greater.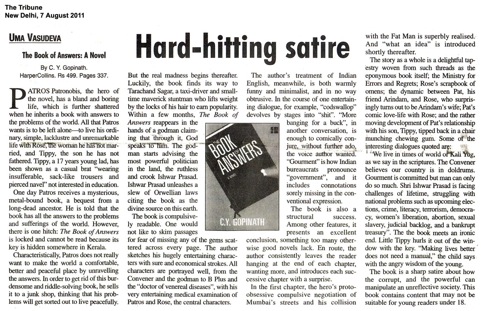 Here's a copy of the letter I e-mailed a week ago to The Tribune, New Delhi (I've yet to hear from either the newspaper or the writer):
Dear Editors,

I must inform you that more than half of Uma Vasudeva's review of C.Y. Gopinath's The Books of Answers (The Tribune, New Delhi, 7 August 2011) has been lifted pretty well verbatim, with no acknowledgement, from my own online review, which I blogged on 19 July and posted on the Smashwords website on 18 July. The passage in question extends from "The book is compulsively readable" to "Pat's relationship with his son Tippy".

Perhaps infected with a laissez-faire attitude that threatens to prevail in this digital age, I considered ignoring this matter. But plagiarism bespeaks intellectual laziness and dishonesty — theft, in fact — and I believe it should be resisted, no matter what changes our popular culture may be undergoing.

I'm not blaming your publication for the plagiarism; I expect you published the article unawares. I find it difficult to believe, however, that the writer in question wasn't aware of what she was doing, and thought you would want to know.
And here's Jack Shackaway accusing yours truly of being a kettle and calling the pot black.