In the interests of conciseness, a fundamental rule of good writing style, and seeing how much Jack likes my turns of phrase, I've converted much of my lengthy "Licking doorknobs" post of 19 June — a tribute to investors and  financial analysts everywhere — into a haiku: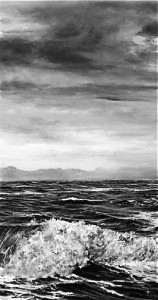 Dark skies gravid with

Precipitate disaster.

Bears sail arks of gold.
Hey, it's got 17 syllables. What more do you expect? Maybe Jack or his "nameless scrivener" can tell me if the Wall Street Journal buys haikus.
I've adapted the image, with permission, from a painting by Vernon W. Jones (vernonwjones.co.uk). The "arks of gold" are there, just beneath the waves.