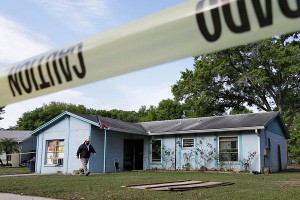 Rude revision to one's life plans: Florida man disappears with bedroom into sinkhole.
The news these days is enough to have us all hiding under our beds. Not that this strategem is foolproof, it seems.
Other network-newsworthy causes for alarm:
Near miss: asteroid.
Near miss: meteorite shower over Russia (largely spares pop. centers).
Near miss: fiscal cliff; sequester still plunging through atmosphere inspiring panic in many quarters.
Etc.
How many other near misses go unnoticed and unremarked? There's a whole range of trolls, some of them as yet unimagined, lurking beneath our individual and collective gardens.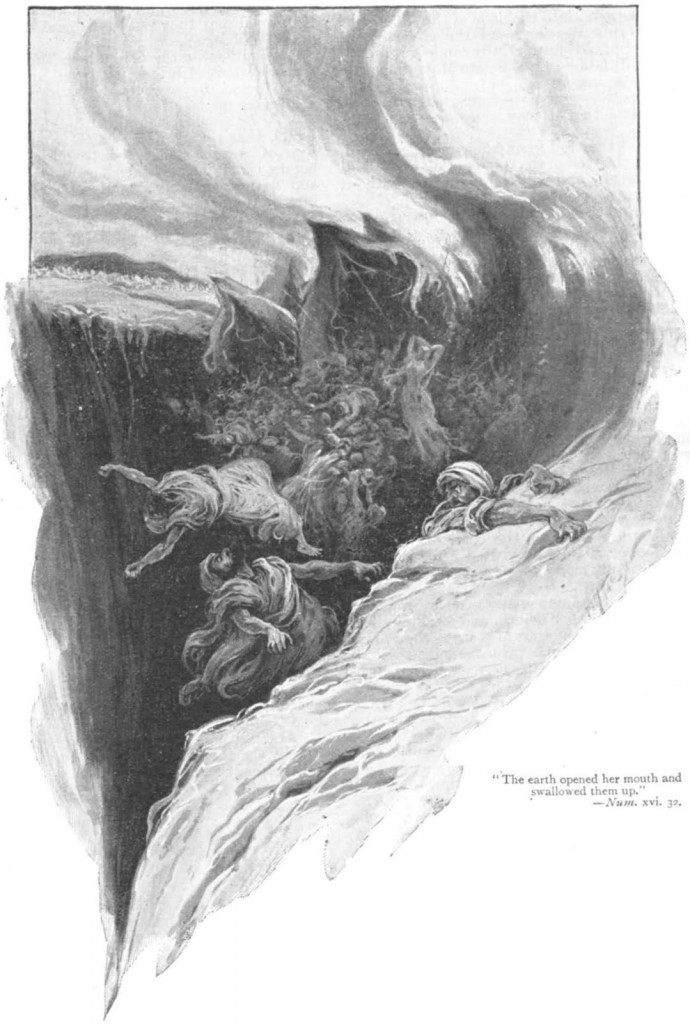 Here's a clip from a 2009 Wall St. Journal interview with Cormac McCarthy (author of The Road, a fine post-apocalyptic novel).
WSJ: When you discussed making "The Road" into a movie … did [they] press you on what had caused the disaster in the story?

CM: A lot of people ask me. I don't have an opinion. At the Santa Fe Institute I'm with scientists of all disciplines, and some of them in geology said it looked like a meteor to them. But it could be anything — volcanic activity or it could be nuclear war. It is not really important. The whole thing now is, what do you do? The last time the caldera in Yellowstone blew, the entire North American continent was under about a foot of ash. People who've gone diving in Yellowstone Lake say that there is a bulge in the floor that is now about 100 feet high and the whole thing is just sort of pulsing. From different people you get different answers, but it could go in another three to four thousand years or it could go on Thursday. No one knows.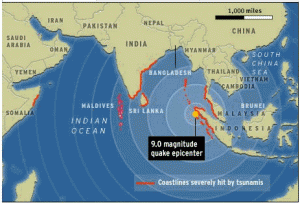 Re-reading that McCarthy interview, and hearing about the unfortunate Florida resident, I was reminded of a story I wrote in 2004 about the Andaman Sea tsunami, which killed nearly 230,000 people and caused incalculable property damage ("Monster Beneath the Garden," by Collin Piprell, Phuket Magazine). The lead to that story is especially pertinent.
It's like having some fabled subterranean monster beneath your garden. One minute it's all butterflies and flowers and skipping about in the sun. The next, the earth opens up to devour you.

Countries bordering the Andaman Sea and Indian Ocean have long presented the world with a vast tropical playground of beautiful beaches, rich forests and marine life, exotic cultures and welcoming local people. And the Phuket area enjoys an added attraction — historically, it has appeared all but immune to natural disaster. Even typhoons have been rare and generally weakened by the time they hit this part of Asia. "Disasters" tend to run to such things as a temporary drop in whale-shark sightings among scuba divers.

For untold years, meanwhile, a monster lurked beneath this idyllic garden. Perhaps 40 kilometres beneath the sea bottom not far west of northern Sumatra and running north under the Andaman-Nicobar islands and beyond, colossal pieces of the earth's crust, subjected to unimaginable pressures countered by friction between these blocks, were trying to slide past one another along a 1,200-kilometre fault line. Given the current state of geophysical sciences, there was no way to anticipate when the slip would come. But come it did. In the event, it set off an earthquake measuring 9.0 on the Richter scale, the world's biggest in 40 years, and violent enough, according to geologist Kerry Sieh of the California Institute of Technology, as quoted by CNN, to make the Earth wobble on its axis.
The point of all this? What with devastating tsunamis and sinkholes under beds, I find myself periodically reflecting on the contingent nature of our moment-to-moment existence. From this perspective, current threats from disciples of Ayn Rand and Al Qaeda together with renewed economic recession to my financial prospects may pale beside other quirks of Fate.
Never mind. My office ceiling might choose this moment to collapse on me, spelling an end to concern about any of this, including calderas pregnant with surprise or some micro-meteorite on a trajectory to aerate my head.
"What a good idea," says Sara. I'm not sure what she means by this. It's hard to interpret her smile.
_______
Sinkhole photo from the Christian Science Monitor.
For more on the Yellowstone caldera: "Yellowstone's Plumbing Exposed."
Tsunami map from http://tsunami2004videoarchive.com.